Holocaust Survivor Peter Lantos Makes a Memorable Visit to President Kennedy School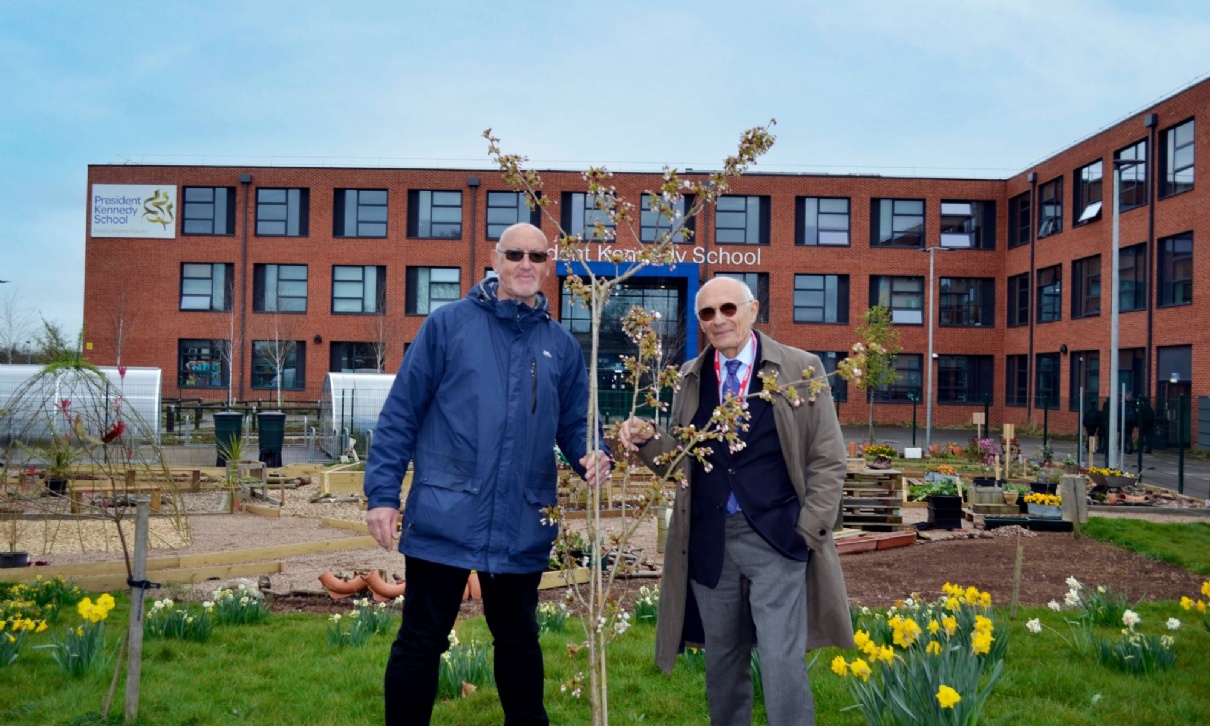 President Kennedy staff and students were privileged to welcome Holocaust Survivor Peter Lantos (83) to school to officially open the Echo Eternal Curriculum Garden.
Since 2019 the school has participated in the national Echo Eternal Project, a commemorative arts, media and civic engagement project, led by CORE Education Trust and delivered in schools for children of all ages, inspired by the testimony of British survivors of the Holocaust and survivors of 1994 genocide against the Tutsi in Rwanda.
The project brings together diverse communities in a collaborative context, using a common focus of Holocaust memorial and genocide awareness. As part of the project, the school was gifted the testimony of Peter Lantos. By the age of 30, Peter Lantos had survived Bergen-Belsen concentration camp, was beaten by the Communist police in Hungary, qualified in medicine, defected to England, sentenced to imprisonment for this "crime" in his absence and had established a career in academic medicine in London. Peter arrived in London with a small suitcase and a few pounds in October 1968 and then embarked on a career in Medical Sciences which spanned some 34 years, during which he contributed to the understanding of diseases of the nervous system. He has become internationally known and was elected to the Academy of Medical Sciences.
As part of the project, students were supported by colleagues from Birmingham Royal Conservatoire to create an artistic multi-media response to Peter's testimony and to share his story with as wide an audience as possible.
In 2020, the students created a video entitled 'Make the best out of the worst', which can be viewed on YouTube by following the link https://www.youtube.com/watch?v=3HoD6yHNhA4
As a pledge to Echo Eternal and to create a lasting 'echo' to dynamically commemorate Peter's gifted testimony, President Kennedy School, with the support of school gardener Rob Bromfield, have created an Echo Eternal garden that features key elements of Peter's amazing story of survival at Bergen-Belsen Concentration Camp, such as cherry and apple trees.
Peter was invited to the school on Monday and met with colleagues and students from President Kennedy and Parkgate schools, the Futures Trust and invited guests from Hays Education and CORE Education Trust, including CORE CEO Adrian Packer CBE. Students from years 6-13 presented poems and experiences of engaging with Peter's testimony within the school curriculum and Peter shared memories of his childhood and the Holocaust in a truly evocative and inspiring day. Peter was then invited to plant a cherry tree in the Echo Eternal Curriculum Garden.
We would like to thank all of the students for their participation in the project and their involvement in the day and thank Peter for his visit to the school. We would also like to thank Rob Bromfield for his fantastic work and commitment to planning and creating the garden, a lasting legacy to Peter's gifted testimony. Peter will hopefully return in the Summer to see the garden in full bloom and enjoy and engage in its further development.
Peter, upon his return, wrote to the school and said;
'First of all I should thank Rob, the staff and students for all you have done: for the garden which has so many details related to my book Parallel Lines or our exchange of emails; the onions, the Cox apple tree and the cherry tree. Thank you for the beautiful parting presents which, with other mementoes, will remind me of my unforgettable day in Coventry'.
President Kennedy School thank Peter for the gift of his testimony and promise that it will act as a 'light in the darkness' to guide the school and its community, now and in the future, to continue to stand up to and act against hate, intolerance and injustice wherever it may exist.

Mr Mort, Director Futures Teaching Alliance