International Twinning Project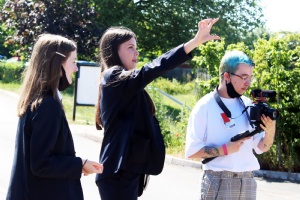 Did you know that Coventry has 26 Twin Cities across the world? And that one of them is Kingston, Jamaica?
Here at President Kennedy School, we are committed to developing our international links and have recently been fortunate to partner with Kingston Technical High School, supported by Coventry, City of Languages and The British Council. We have already established a link between the two schools by creating an introductory film. The film was planned, recorded and directed by some of our Year 9 and Year 12 students, with technical support from media company Twin Studios CIC, and has been shared with students at our partner school. The initial aim of the twinning project is to explore the shared cultural heritage of Coventry and Jamaica, with a focus on Windrush and the legacy that followed.
Next year we have three exciting collaborative projects planned. Firstly, we will be getting students to further explore our shared heritage through music, art and drama, leading to an online gallery where both schools can showcase their talent. We will also be taking part in a virtual language exchange, setting up a penpal system and, finally, working on a project for environmental sustainability. This promises to be an extremely exciting opportunity for the students at our school and I can't wait to update you on some of the wonderful things we have achieved, later in the year.
For now, a big thank you to the following students who have kick-started the project with such enthusiasm and fantastic effort: Harry Lovelock, Maddie Birch, Gracie Rolinson, Eesha Gupta, Mya Birdee, Zak Adams, Harry Gilsenan and all the students who so kindly appeared in our film!
Mrs Seaton, MFL Teacher