Echo Eternal - Year 8 Holocaust Poetry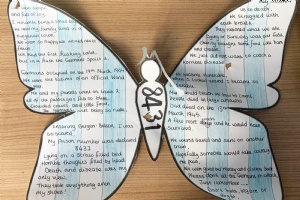 Year 8 RE students have had an amazing experience with Echo Eternal survivor Peter Lantos.
He was very impressed with them as a group. They asked thoughtful and philosophical questions that elicited replies from him even his long-term handler hadn't heard before.
As part of the project, the students wrote poetry to amplify the holocaust survivor stories. Two students, Aryia and Hannah wanted to share the poetry they wrote with Peter; he now has his own copies for him to keep.
Their work will be shared online via the Echo Eternal and CORE Twitter accounts.
Mrs Starbuck, RE Department