Information for Staff
At President Kennedy School, we are working towards achieving the eight Gatsby benchmarks, identified as the core dimensions of good careers and enterprise provision in schools.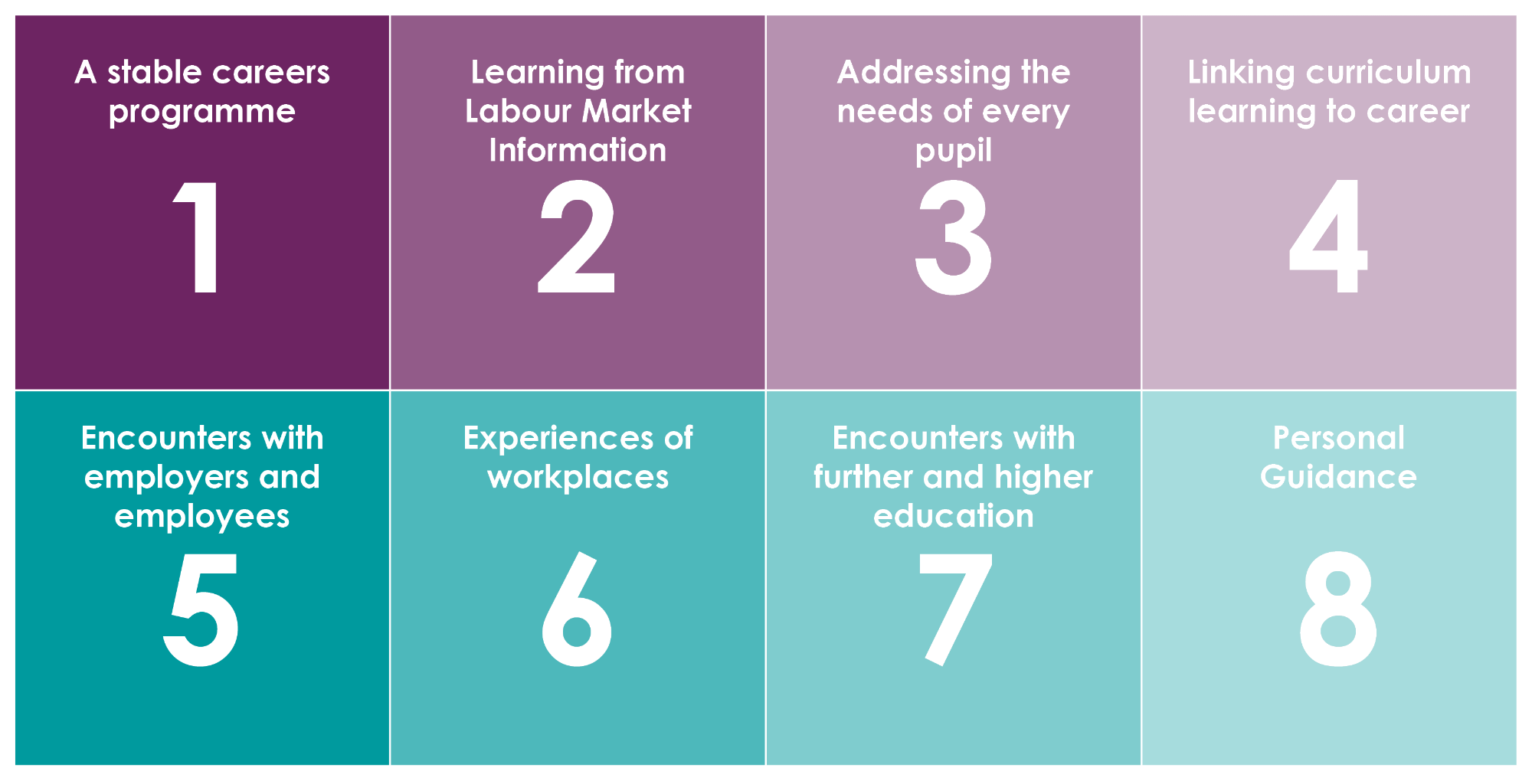 These benchmarks form the backbone of the DFE's guidance for delivering careers education in schools.
The DfE sets out why these benchmarks are important:
"Every school and college should have an embedded programme of career education and guidance that is known and understood by students, parents, teachers, governors and employers"

"All teachers should link curriculum learning with careers."

"The curriculum offers excellent opportunities for developing the knowledge and skills that employers need, and subject teachers can be powerful role models to attract pupils towards their subject and the careers that flow from it. Schools should ask all teachers to support the career development of young people in their tutorial role and through their subject teaching."
Remember that teachers are influential:
Pupils are 18 times more likely to be motivated to learn if their teachers know their hopes and dreams.

57% of young people surveyed would speak to a teacher about what to do next (HeppSY partnership report 2020).

Careers and employability learning can support the economy by enabling effective transitions (Hooley 2014).

Low achievers and less engaged learners benefit the most
All teachers are involved in giving careers-related information that is part of the curriculum. The support of the tutors, College Directors, Subject Leaders and all subject teachers, to name but a few people, forms a valuable part of the process of vocational choice and decision-making. Students also have access to specialist support from a full time careers professional, Mrs Worwood, who is available in school to provide1:1 personal guidance.
There are a number of ways in which teachers can help provide careers education to our students:
talking to pupils about where their subject could lead them.

looking at a particular job and seeing how their subject links to it.

include opportunities for pupils to develop their employability skills by leading a task or presenting to the class.
Resources to support staff can be found in the Careers section of the staff shared area (SharePoint).
Unifrog
All staff have access to the unifrog online careers platform. The unifrog resource library includes a huge range of resources that can help you ensure you are providing your students with accurate, up to date careers information across every subject we teach.
To login, please go to https://www.unifrog.org/sign-in and enter your username and password to bring up your personal profile. When you first log in, please follow the link in your welcome email. If you don't have this link, have forgotten your password or are having any other issues, please email Mrs Worwood, Leader of Careers.