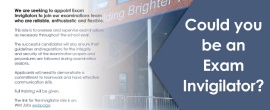 Become an Exam Invigilator!
Published 27/05/21
We are seeking to appoint Exam Invigilators to join our examinations team who are reliable, enthusiastic and flexible.
This role is to oversee and supervise examinations as necessary throughout the school year.
The successful candidates will also ensure that guidelines and regulations for the integrity and security of the examination papers and procedures are followed during examination sessions.
Applicants will need to demonstrate a commitment to teamwork and have effective communication skills.
Full training will be given.
The link for the invigilator role is on WM Jobs webpage
Closing date: Monday 7th June 2021
Read More