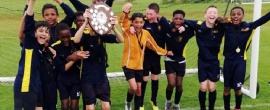 Year 7 Football Team Win Coventry Cup!
Published 27/06/19
Congratulations to the Year 7 football team who won the Coventry Cup with a 2-0 victory against Ernesford Grange on Tuesday night.
Ernesford started the game well and were awarded a penalty after 10 minutes. Fabien produced a fantastic save which seemed to motivate the rest of the team.
A goal from Rahim gave President Kennedy the lead which was soon doubled by Ethan, to put us in control.
The final 10 minutes saw Ernesford pile on the pressure but the President Kennedy team stood strong to complete one half of what we hope will be a historic double with the West Midlands Cup final on Saturday.
Mr Garlick, P.E Department
Read More