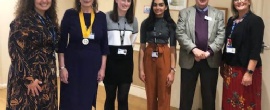 Year 13 Students Give Presentation to the Rotary Club
Published 28/10/19

Year 13 students, Reyna Sandhar, Molly Stanley and ourselves visited the Rotary Club this week.
Reyna and Molly gave a presentation showing the work we carried out whilst we were in Peru. They were fascinated to hear about all the things students had achieved and the experiences gained whilst helping the community in Moray. They were then able to conduct a question and answer session where the Rotary members asked many questions about their trip and the qualities they gained from their specific experiences.
We would like to give thanks to the Rotary Club for its continual support in school via projects such as The Interact Club where the Year 7 Bridge Council focus on "Service Beyond Self."
This encourages students to focus on fundraising on a local and international level as well as raising the profile of projects such as 'The Purple Community Fund'.
This is where ring pulls are collected and sent to third world countries to help local people make and sell bags and purses from the ring pulls.
They have also been instrumental in supporting the Peru trip itself. Ray Thompson and Judy Ryan actively support President Kennedy School and our students.
We hope to have many more years of working together to better the lives of our students as well as the local and wider community.
Miss Yafai and Mrs Arnett
Read More