Health & Social Care Students Visit Dementia Patients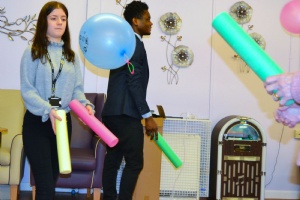 Year 13 students on the Level 3 Btec National Extended Diploma in Health and Social Care course, visited Maymorn Day Centre last week.
The centre delivers day care for people who have Dementia. Students are currently studying a unit focused on Dementia and the visit was intended to further their knowledge in this area.
They all enjoyed interacting with both clients and staff at the centre.
"I really enjoyed the visit and meeting everyone at the centre" Amy
"It gave us a great insight of individuals with different types of Dementia"- Ria
Mrs Osborne, Teacher of Health & Social Care