Mr Barton Maths Conference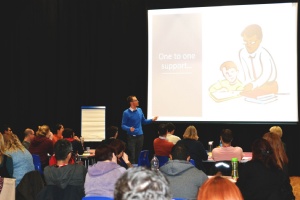 On Friday 31st January, President Kennedy School was the venue for a one day conference, bringing together over 80 maths teachers from across the Midlands and The Futures Trust.
President Kennedy Teaching School Alliance and ABBC Maths at Parkgate Primary hosted Craig Barton, Maths Teacher, TES advisor and author of the book "How I wish I'd Taught Maths", who delivered workshops on Worked Examples and Formative Assessment as part of this fantastic maths CPD day.
Feedback from the event was very positive with delegates commenting that the information presented was "extremely useful in moving forward in my classroom teaching" and "the mathematical presentation was clear and easy to link in with".
The work focused on the best methods to enable students to have more opportunities within lessons, to discover maths for themselves and try to reach outcomes, rather than being told what they were aiming to achieve from the outset.
You can follow Craig Barton and President Kennedy Teaching School Alliance on twitter @mrbartonmaths and @PresKenTSA
May Sly,Teaching School Manager