Langar Aid and Local Community Celebrate Guru Nanak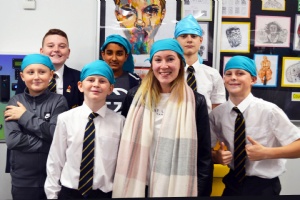 Students, parents, teachers and members of the local community enjoyed a meal together to celebrate the 550th birth anniversary of the the founder of the Sikh religion, Guru Nanak Dev Ji.
People from all walks of life came together and enjoyed 'Langar' (free kitchen) with people they perhaps wouldn't normally have the opportunity to sit with. Langar is served daily in Gurdwaras around the world to anyone who wants a meal without discrimination. This ties in with the key teachings of Sikhism showing compassion to others, treating everybody equally regardless of race, status, religion or gender, seva (selfless service) and most importantly of oneness.
A truly amazing event. A big thank you to students, parents, teachers and the Langar Aid team. Without their help and support, this event would not have been possible or the success it was.
Ms Birdee & Mrs Sandhar, Year 8 Team