Future Focus Challenge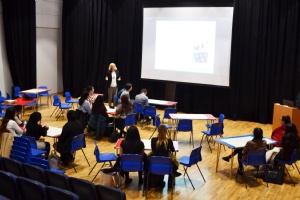 Year 12 students had the opportunity to work with 'Enabling Enterprise' to reflect on how they are going to achieve their dream chosen career.
Over the course of the day, students applied essential skills to answer the question: What career is right for me?
They explored different career sectors by trying out industry specific challenges. Students took part in three activities:
Applying Teamwork in Business and Administration by generating ideas to spend and save money in a business; Applying Creativity in Artistic and Creative Skills by designing a new marketing campaign; and Applying Staying Positive in Health and Wellbeing by writing a return to work plan.
As they progressed through the challenges, students reflected on what they have learnt about each career sector and whether they were interested in these types of jobs.
Amadeus Parekh Pross said:
"Thinking about these skills in the context of future careers has been a challenge. I don't yet know what I want to do after studying - but I really recognise skills like team work and staying positive are going to be very important for me"
Tarun Poonia added:
"The Future Focus Challenge has made clear to our students, that no matter what field of study or career path they take, the essential skills are going to be increasingly important to support them in their learning and in securing jobs and career success".
Mrs Petrak, Leader of Enterprise