School of the Year - President Kennedy School Awarded for Sporting Dedication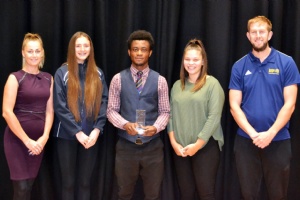 President Kennedy School students in Post 16 were involved in a Sport England initiative called 'Tass' last year, that ran in conjunction with Coventry University.
It is a Dual Career Accreditation Scheme which recognises an education institution's commitment to dual career support for talented athletes who are in full time education.
On Tuesday night we were awarded the 'School of the Year' trophy, for our dedication and enthusiasm to the project.
Mr Garlick, P.E Department