The Sherbourne Fields History Project June 17th - 19th 2019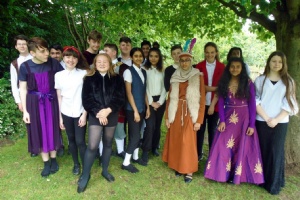 It was a "Tudors" theme this year at Sherbourne Fields Special School as the annual History Project arrived.
In brightly coloured period costume, eighteen of our Year 9 students arrived with an array of props and ideas ready to deliver. The result was great fun! For three days we helped to inform, entertain and educate Key stage 3 students at Sherbourne Fields.
This was the 14th year of a project which continues to go from strength to strength. For the students at Sherbourne Fields; by their nature, a small group, there is always something special about new groups of young people who visit and support them. They thrive on the spirit and energy of President Kennedy students. For our own students there was a different sort of challenge; finding the confidence, ideas and personality to appreciate the individual needs of a wider society and help them participate and enjoy learning.
This does not come without great effort and preparation. The group worked extremely hard in the weeks before the project to prepare stories and resources to help the young people they were waiting to meet. The team gave up lots of their own time to engage with this process; they built a Spanish Armada, a secret code, images and voices of the multiple wives of Henry VIII and a huge circumnavigation of the globe snakes and ladders game.
Kitting themselves out in Tudor-style costume really helped to extend the learning of the Sherbourne Fields students, who rely so much on their sensory experiences at school. Our students successfully built on this to make them feel fully involved in stories about famous Tudors such as Elizabeth 1st and Sir Francis Drake.
It was not just about stories though; there was also a time for music, thanks partly to Amy Cox and her ukulele, dance, cooking, artwork and sport. The week ended with a Tudor banquet with an array of entertainment and awards. It will, no doubt, provide lasting memories for all of those involved, as our somewhat emotional departure on the final afternoon should testify.
Reflecting on the project afterwards, those involved saw a real value in this type of learning.
Nida Mansoor wrote that "Visiting and taking part at Sherbourne was a really rewarding experience and it helped me grow in confidence. Additionally we all made friends and it gave us an understanding of how all students learn differently."
Isma Nissa agreed with this adding "It was an amazing experience. I felt that all the children wanted to get to know us and befriend us."
Dalton Perkins, who developed a particular love of Sherbourne's "Soft Play" room, perhaps put it in its simplest form however, repeating several times over that it was "The best trip ever". His enjoyment was probably enhanced by the fact that it wasn't really a trip at all and he was working all the time.
The History department would like to extend its thanks to the team who worked so hard and all of those who helped by making props or assisting with costumes. The team were:
Amy Cox, Eren Geridonmez, Harry Kavanagh, Nida Mansoor, Brooke Keogh, Dalton Perkins, Nikki Lazokova, William Tray, Isma Nissa, Roman Gill, Munirullah Bashardoust, Ryan Chand, Helena Saiju, Ola Dobrowolska, Holly Delaney, Matthew Taylor, Alyx Jenkins and Callum Ball.
Mr Finney, History Department