Year 12 D of E Silver Expedition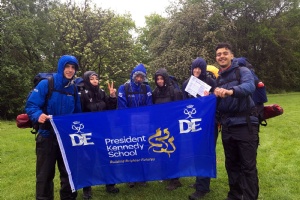 While most took cover from the rain of last weekend six Year 12 students embraced the challenge of the Derbyshire countryside and completed their silver DofE Expedition.
The students started on Friday morning from Ilam Hall with little break from the rain all day and had a late finish at the campsite. Although the rain held off overnight, it had started again by the next morning. As a result, they packed up their wet tents and started their second days walk.
Managing to find shelter in an old building for lunch was little relief, but the persistent rain did not dampen spirits and they all remained motivated to complete the challenges.
The boys took great delight at the first sunshine of the weekend when they entered camp on Saturday night and were resourceful enough to use a tree to dry their wet clothes.
Sunday morning started with an early alarm call by the donkeys in the neighbouring field. With the sun out all students were packed up and ready to start walking at 9:10am.
Part of the route went along the Tissington trail and then across the fields to finish in the lovely village of Hartington.
Well done to all involved!
DofE Leaders: Miss Kirkham and Mr Beattie