Year 12 Students are in the Top 10 of the National League Investing Real Money on the Stock Market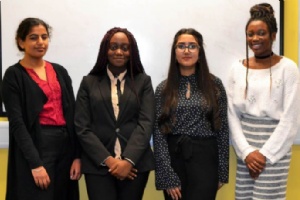 Congratulations to Year 12 students; Niskia Pryce, Halimah Begum, Simran Erabi, Caroline Achiaa, Frederico Romba-Martins, Helena Sidhu, Awais Khan and Ravneet Virdi who are investing £2000 on the stock market as part of a national competition initiative "Shares4Schools".
At the time of writing, students are 2nd in the Regional Midlands League and 10th in the National League.
The realistic nature of the competition means that it's important to note the value of investments and that the income from them can go down as well as up. Some schools have lost money in the past, so our students must keep a keen eye on their investments and buy and sell shares at the most profitable times!
Student's strategy has been to choose blue chip companies for long term growth and to take a calculated risk buying riskier, but potentially highly profitable 'Aim' shares.
The competition ends on 28th June 2019, after this date, students will need to sell any remaining investments before 5th July 2019.
Any remaining investments after then will be automatically sold on 8th July 2019. Therefore, it is important that our students sell all their shares when the financial market is high.
Halimah said "This experience will teach me the fundamentals of trading on the stock market and it will give me a broader insight into the world of finance which will help me in my studies."
Mrs Petrak, Leader of Enterprise