Students Experience an Authentic Spanish Getaway!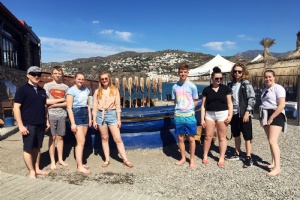 Year 10 and Year 11 students visited Granada on a Spanish trip during the Easter break. Granada is a very traditional part of Spain where very few people speak English. Whilst there, students were immersed into the local culture and experienced a visit to the beach, a Flamenco show, paella cooking class, Spanish lessons and many more culturally rich activities – they even managed to watch the iconic 'Semana Santa' processions!
My favourite part was when we had free time to walk around Granada because it was fascinating to see a different culture, I just wish we had longer. Amelia Bassnett
I really enjoyed our time at the beach, the view and joking around over Aquarius and tapas. Mollie Wilson
For me, the best part was trying all the new food and it was interesting to see the traditional Flamenco – I've never seen anything like that before! Daniel Cobbett
If your child is in Year 9 and you would like them to take part in next year's trip and have any questions please feel free contact me on yafaia@pks.coventry.sch.uk.
The initial deposit is due in for 3rd June and is payable via ParentPay.
Miss Yafai, MFL Department