Beauty and the Beast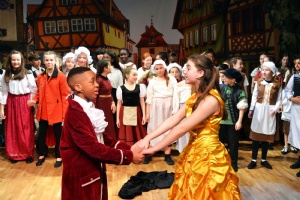 The Year 7 cast of BEAUTY AND THE BEAST took to the stage on Thursday 21st and Friday 22nd March.
The President Kennedy School theatre had a wonderful atmosphere; full of friends, family and the local community.
The students gave such mature and energetic performances, which were greatly received by the audience. Whilst rehearsing for the production each student showed commitment, determination and exceptional team work skills.
They showed kindness towards each other and real pride in their achievements. Backstage was full of energy and excitement.
A wonderful production which will hold special memories for both students and staff!
I am extremely proud of each and every student.
A massive well done Year 7!
Miss Walsh, Leader of Performing Arts