P16 Public Speaking Team Get Through to Regional Finals!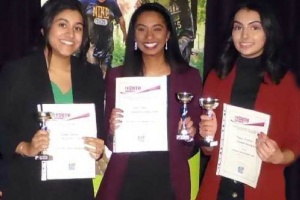 Congratulations to our Post 16 Public Speaking team, Reyna Sandhar, Caidie Samra and Isha Patel who produced a flawless performance in winning the Youth Speaks district competition at North Leamington School last Saturday.
They will now be the Coventry and Warwickshire representatives at the Regional finals with the winners of that competition competing in the National finals in May.
Their topic of 'Marginalisation of ethnic minorities in the media' , was delivered in a very professional and entertaining way which left the judges and the audience enthralled.
Well done girls and best wishes for the next round.
Mr Finlayson, Leader of Student Development