Fantastic Results for Post 16 Students!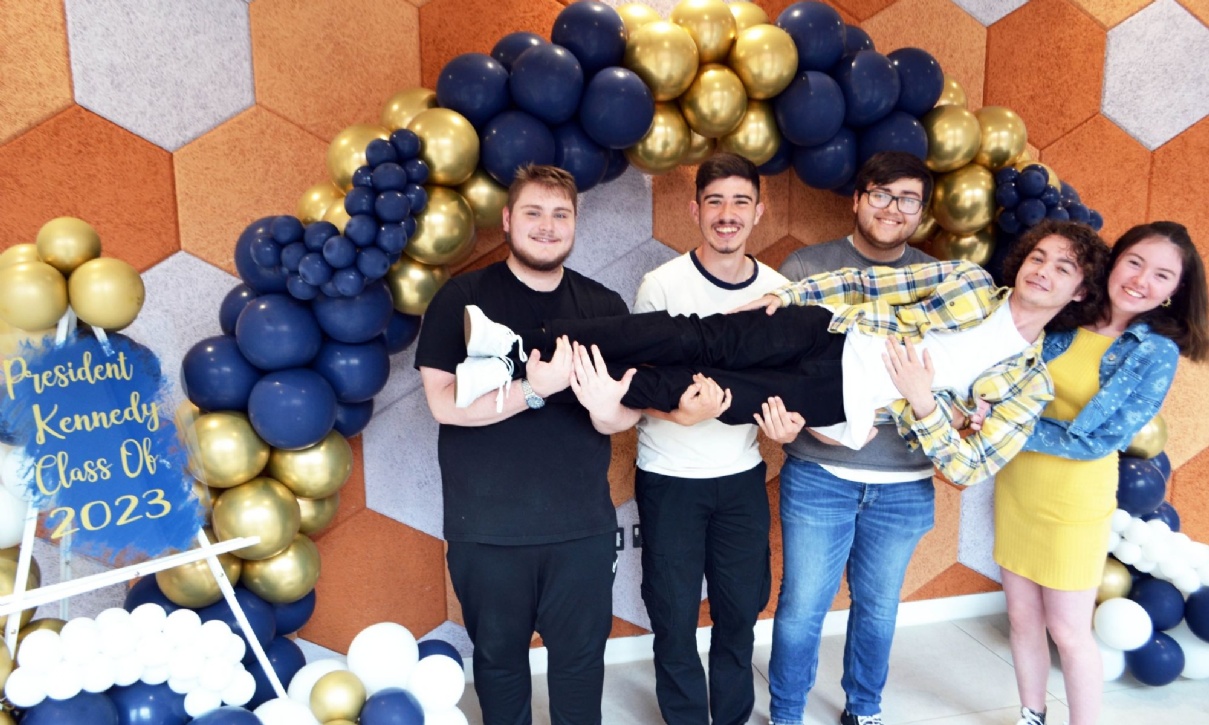 President Kennedy School is extremely proud of what our students have achieved today as students' hard work and perseverance have paid off. Below are some of the success stories we would like to share with you – but we could have easily ended up writing about everyone. Well done all – you are going to be great and successful in everything you do.

A huge congratulations to Matthew Taylor who will be embarking on an exciting new chapter when he begins his studies in South Korea later this month. Matthew secured three A* grades in Maths, Further Maths and Physics, and will now start his course at the renowned Korea Advanced Institute of Science & Technology (KAIST) on a full scholarship. Matthew is one of three students from the US, UK and Canada to gain a place at this prestigious university.

Ismail Rafique, who has shown continued dedication to his studies throughout his seven years at President Kennedy School, has achieved two A* grades in Maths and Further Maths and two A grades in Physics and Chemistry. We are delighted that he has secured a place this autumn at the University of Cambridge to study Medicine.

Millie Mae Hendrie has been a student at President Kennedy School since Year 7 and was born with a rare inherited eye condition called Lebers disease so is registered as blind. She has never let this hold her back and has thrown herself into school life. She is adept at using her BrailleNote to support her learning and is passionate about her studies. We are delighted that she has secured a place at Warwick University to study Sociology.

Karina Kaur will start her apprenticeship degree with SBC this October. Karina secured A grades in English and History in addition to a distinction* in Business. These are highly sought after courses, and we are pleased that Karina has achieved this for herself.

Eren Geridonmez has gained an impressive three A* grades in Maths, Further Maths and Physics, and an A grade in Computer science. Eren is passionate about the practical applications of Computer Science and has secured a highly coveted place to study this subject at Imperial College, London this autumn.

Heena Patel achieved an impressive Distinction* and two distinctions in Health and Social care. She will begin her studies in Health and medical sciences at the University of Warwick next month. Another great example of how hard work and perseverance pay off.

Kody Murray – three B grades, studying Psychology at Durham. This is an exceptional achievement, and we know that Kody will thrive on this course.

Aymaan Sajid obtained three A grades in Biology, Chemistry and Maths. He has secured his place to study Dentistry at the University of Birmingham.

Another huge congratulations to Dorin Boahene who obtained an A grade in Spanish and a Distinction and Merit in her Business studies to secure her place to study Health Sciences at the University of Nottingham.

Marisa Jalloh obtained three A grades in Biology, Chemistry and Maths. She has secured her place to study Chemistry at the University of Manchester. A great achievement and we look forward to hearing how she gets on.

Nat McCoy obtained two distinctions in his Business BTEC and an A grade in A level Maths. He has secured a place to study accountancy at the University of Manchester. He will be a great asset to the course.

Two former pupils who we worked with to make the P16 results day extra special for our students - Georgie Strang: McCloskey Made Events (for our balloon arch and easel) and Reyna Sandhar: Reyna Bakes (cupcakes).

Today has been an excellent reminder that Kennedy Kids can and, as you can see, do!