President Kennedy Schools Wins First Prize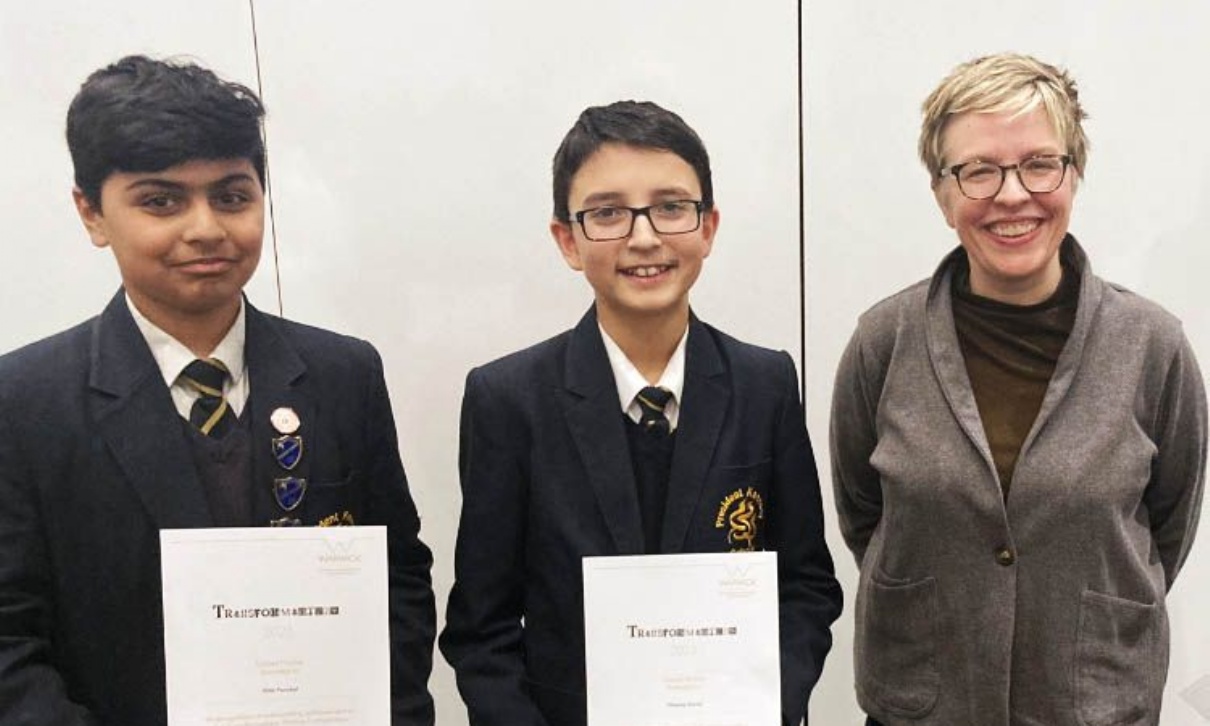 On Tuesday, three students from Year 8 and 9 were invited to a special event at the University of Warwick; this was in recognition of their hard work participating in the after school English club Transformations.
Run by the university, the club was based around the theme of 'Voices' in which the students discussed socio-political issues such as the climate crisis, prejudice and identity. At the end of the programme, all students were invited to submit a creative response - either a speech, poem, story or piece of art work - based on their learning. The three school finalists were Ritik (Year 9), Shante and Dheeraj (both Year 8).
When we arrived on campus, we were given a tour of the facilities including state of the art technology, the newly opened Faculty of Arts Building and the library. Next, we had a poetry master class with Nicola Hamer and an awards ceremony for the school and competition finalists.
We were thrilled to learn that out of the ten schools in the competition and with over ninety entries, Dheeraj was the overall winner for the city! Emma Mason, the head of English at the University of Warwick, spoke passionately about how moving she found Dheeraj's poem, praising his creativity, insight and compassion.
I was so impressed by the mature and insightful questions our students were asking the university ambassadors, as well as their excellent behaviour throughout the day. As always, they did the school proud! Thank you to all of the students who participated in Transformations this year. Miss Stentoff, Teacher of English
We are United
Day One – The Panic 
The television switches on. 
People shouting, screaming and yelling, 
When will this war end? 
There is no telling… 
The atmosphere goes manic 
As the people start to panic. 
There's no time to think, 
The buildings are on the brink.

Day Two - Separation 
There are more updates on the news 
As the Ukrainian war continues. 
Father waves goodbye to his daughter, 
She is boarding the crowded train. 
By tomorrow she will cross the Polish border 
Hoping that one day they might meet again. 
They wipe away their heavy tears 
As they face their greatest fears. 

Day Three - Anger 
The relentless Russian army forces its way, 
Yet so many Ukrainians decided to stay. 
Screaming sirens, blasting bombs, 
Demolished dreams as the anger grows. 
Putin's plans take its toll, 
As the Russians attack Mariupol. 
"Putin, you can try destroy us if you may, 
But can you answer on Judgement Day: 
Why…?" 
Day Four, Five, Six, … - Hope 
The world united, they do all they can. 
Whether its sanctions, donations - 
Or just helping hands. 
All is not lost, as it may seem 
Ukraine, you are never alone; we are a team.