Peter Lantos Returns to President Kennedy School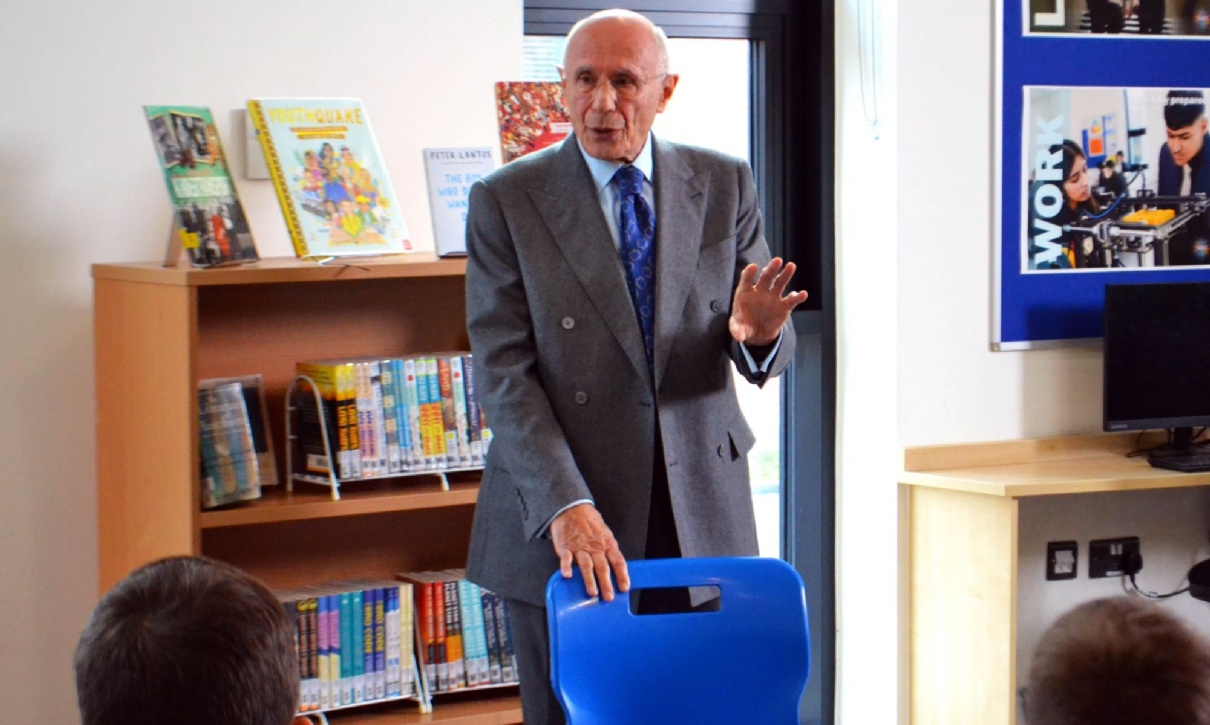 President Kennedy School was privileged to welcome Holocaust Survivor Professor Peter Lantos to the school to film a short piece that will be aired on the BBC One Show in late January. As part of the Echo Eternal Project that the school have been engaged with since 2017, the school was gifted the testimony of Peter that was transcribed from an interview with journalist Natasha Kaplinsky.
Peter was transported to Bergen-Belsen Concentration Camp as a young child and repeated the journey after retiring from his role leading research in Neuroscience at King's College. As part of a creative arts piece, supported by the Royal Conservatoire in Birmingham, students created a film that can be seen on YouTube entitled 'Make the Best out of the Worst', based on their engagement with Peter's testimony.
Please follow link to view https://www.youtube.com/watch?v=3HoD6yHNhA4
The school also, as part of a 'Sharing Pledge' within the Echo Eternal Project, created an 'Echo Eternal Curriculum Garden' in memory and celebration of Peter's testimony and prison number at Bergen-Belsen, 8431.
The design and planning of the garden was centred on elements of Peter's testimony, the centrepiece of which is a Cherry tree that Peter remembers in his garden as a child.
Hays Education, who sponsored the Echo Eternal Project, gifted the tree to the school and it was planted in the Summer of 2022 by Peter and President Kennedy School Gardener Rob Bromfield. Rob and Peter have since become friends and correspond regularly, sharing the progress of the garden through the seasons.

The visit on the 30th November was organised by the book publisher, Scholastic. Peter wrote his first book, Parallel Lines: A Journey from Childhood to Belsen in 2006. In January 2023, Peter, in association with Scholastic, is publishing a child's version, 'The Boy who Didn't Want to Die'. The book describes an extraordinary journey, made by Peter, a boy of five, through war-torn Europe in 1944 and 1945. Peter and his parents set out from a small Hungarian town, travelling through Austria and then Germany together. Along the way, unforgettable images of adventure flash one after another: sleeping in a tent and then under the sky, discovering a disused brick factory, catching butterflies in the meadows - and as Peter realises that this adventure is really a nightmare - watching bombs falling from the blue sky outside Vienna and learning maths from his mother in Belsen.
All this is drawn against a background of terror, starvation, infection and, inevitably, death, before Peter and his mother can return home.
On his visit to President Kennedy School, Peter read to Year 7 students and answered questions. He was then reunited with Lily Marsden and Erin Ford from Year 12, who participated in the original project when they were in Year 8 and met Peter in the summer. Peter then chatted with Rob and toured the garden, all filmed for the BBC One Show.
The date when the film will be aired will be communicated with the school community once confirmed by the BBC, however, it is intended that this will be on Holocaust Memorial Day on Friday 27th January 2023. Watch this space.......!
Mr Mort, Director Futures Teaching Alliance