President Kennedy School Celebrates First Ever Pan African Culture Festival!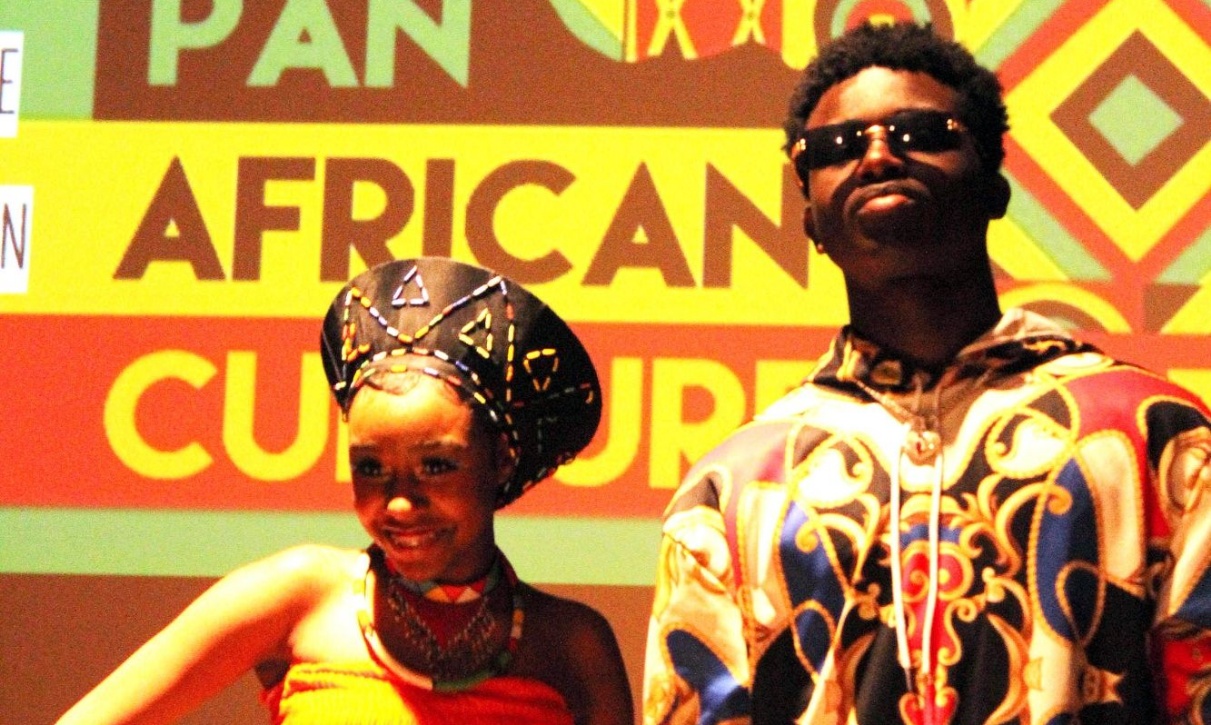 On Wednesday 23rd November 2022, President Kennedy School hosted its first ever Pan African Culture Festival.
The event was a showcase of the best of Black British, Caribbean and African culture with regards to fashion, music, dance, art and food.
The Festival was the brainchild of the Fabulous Club, a group dedicated to celebrating the school's cultural diversity, when they were asked how they would most like to celebrate Black History Month.
After a warm welcome from our MCs Deja Bailey and Hannah Richards, the evening kicked off with a fashion show in which our models represented their nations of heritage with their traditional garments and flags.
Our models were: Cordelia Akata, Zuriel Assafuah, Cheryl Bortey, Jeremiah Cudjoe, Rosemary Cudjoe, Fadil Dabre, Vanessa Danso, Deborah Fofie, Gillian Forkuoh, Afia Frimpong, Michelle Kirk-Asante, Fares Mudhai, Arnold Ofori, Constance Nwokeocha, Anna-Rachel Quayson, Shanice Rogers and Shante Rogers.
At the interval, our guests, performers and volunteers had the opportunity to taste some divine West African food provided by the Nigerian restaurant AGG on Far Gosford Street.
The array of dishes included: Jollof, Fried Rice, Egusi Soup, Pounded Yam, Chicken Drumsticks, Suya (Beef), Turkey wings, Samosas, Pies, Fried Prawns, Puff Puff balls.
The second act included beautiful solo singing performances by Amina Sharmarkey with 'I choose you' and Cordelia Akata with 'Scars to your beautiful'.
Dave's iconic and symbolic masterpiece 'Black' was performed by the duo of Zuriel Assafuah on the drums and Fares Mudhai on the keyboard and vocals.
Stefania Adoma and Emmanuella Boadi did an Afrobeat dance routine as a duet to the infectious melody and beat of 'On the Low' by Burna Boy.
An Afrobeat dance troupe from year 8 raised the roof of the building with a scintillating dance routine to 'Wololo' by Babes Wodumo featuring Maphintsa.
Commendations go to: Rosemary Cudjoe, Chanelle Goremucheche, Deborah Fofie, Gillian Forkuoh, Michelle Kirk-Asante, Constance Nwokeocha, Daniella Mensah, Keneth Opoku, Anna-Lee Quayson, Shanice Rogers Shante Rogers and Hannah Wachira.
Shanice Rogers represented her southern African heritage with a performance of the Zulu song 'Easy to Love' by Bucie.
Arguably the stand out performer of the night was Fabulous Student Lead, David Samura, who sang four different pieces. His first was a solo rendition of 'All to me'. He and his fellow Fabulous Student Lead Emanuela Brown sang a duet of the soulful 'Best Part' by Daniel Caesar featuring H.E.R.
David's church choir graced us with their presence and angelic voices. The first of their performances was 'Killing Me Softly With His Song'.
The climax was 'Stand Up' from the film 'Harriet', a biopic about African American former slave and hero Harriet Tubman.
This was performed by David and his choir, and their rousing performance received a rapturous standing ovation from the audience.
At the end, the performers, who had put in such hard work were able to celebrate by dancing to some contemporary rhythms.
This truly was a World Class event for students, parents and staff, to learn experientially about other cultures.
We are fortunate at President Kennedy School that we have such a diverse Black community with students hailing from countries including Jamaica, Barbados, Grenada, St Lucia, Ghana, Nigeria, Sierra Leone, Cameroon, South Sudan, Somalia, Kenya, Tanzania, Uganda, Rwanda, Malawi, Congo, Zimbabwe and South Africa.
This might just be the start of a new tradition at our outstanding school.
Team Fabulous