President Kennedy School Students Take Part in Engineering Masterclasses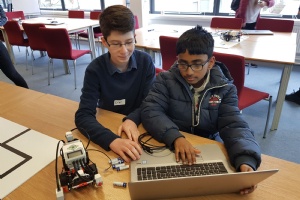 For the past three weeks, Year 9 students Amy Cox, Yadunanthan Ravikanthan and Eren Geridonmez have attended the 'Royal Institute of Engineering' masterclasses at the University of Warwick.
They have had the opportunity to build and test crash structures with eggs and program their own autonomous cars. They were introduced to new situations and had only themselves to rely on to problem solve.
There has been a competitive side to each session and our students have been very successful in getting really involved.
There are three more sessions that they will attend this month.
"I really enjoy the way they teach you at University. I like being given a difficult situation and learning from my mistakes"- Yad
"I enjoy the competitive side to the sessions"- Amy
"I love learning new skills and more about engineering"- Eren
Mr Ratcliffe-Law, Teacher of Science and STEM