Secret Science Homework Project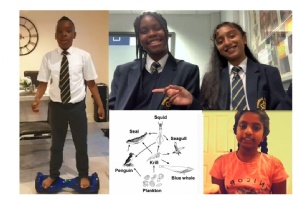 Science is all about discovery. It is about being able to challenge what you know and propose new ideas. It is about being creative and imaginative about the world around us. With this in mind, this year I am giving the chance for my Year 7 students to do exactly that: to discover, to experiment and to push their limits.
I have developed an idea that I called "Secret Homework".
This is an optional project unannounced in lessons that students can find in a "treasure hunt style" and then carry out of their own initiative. This time, they had to become YouTubers and produce a video to explain the topic of food chains and food webs that we were studying in class.
I have to say that I am genuinely blown away by the amazing response this project had. The number of students that have completed the challenge was incredible, despite being a voluntary activity. The results were fantastic, exceeding any possible expectations that I could have ever had!
The creativity shown by Freya Pearson, using her own teddy animals to show how food chains and food webs work in different ecosystems (including the Jurassic era) in an eight minute video, full of brilliance and a superb understanding of every single process. The accuracy of Cordellia Akata and Abshara Piratheeban in a video in which they did not leave any details behind, including ideas that I had not even taught in my lessons.
A real YouTube-style display produced by Karini Sutharsan, not only applying all her knowledge but also even asking for likes and subscriptions for "her own science channel" at the end of her video. And a super fun video by Ozzy Omogun, explaining food webs riding his segway.
My first prize was awarded to the stunning video produced by Ethan Moongo and Fares Mudhai. This was a video of real (and I cannot emphasise enough how real) professional YouTube looks and standards. I have used videos in lessons from YouTube that are not even close to the quality of this video. It had its content perfectly scaffolded; it was packed with images and diagrams that made it easy to follow, even if it was the first time you approached the topic. This video was so good that it even caught Ms Alexander's attention as she was walking through the corridor. Her reaction when she found out that this video was actually produced by these two Year 7 students was memorable. "I cannot believe you made this! This is so impressive! It looks professional!", she said in amazement.
Another special mention should be given to Apinayaa Ramanan, who wrote over 300 words about food chains and food webs and asked for feedback, after which she redrafted and upgraded her work to a whopping 700 words before she recorded her video. A true display of determination and perseverance ,pursuing excellence. All the core values in The Bridge shown in just one example.
I said at the beginning of the year that my R4s would be very difficult to obtain. However, they are giving me no choice so far. It is crystal clear that we have a stellar new Year 7 cohort, full of ideas and creativity, and with the potential to face even the most prestigious YouTubers.
I cannot wait to see what these students do next!
Mr Ferrater, Teacher of Science