President Kennedy School Students featured on BBC Midlands Today
Earlier this week, four of our Year 9 students were filmed for the BBC Midlands Today programme as they seized the world class opportunity to complete a drama workshop run by the Royal Shakespeare Company (RSC).
Zak Adams, Ebony Flitcroft, Nathan Jones and Courtney Randle are appearing in the Royal Shakespeare Company production of Romeo and Juliet in Stratford-upon-Avon later this year and the lead role of Romeo is being played by President Kennedy ex-student Bally Gill.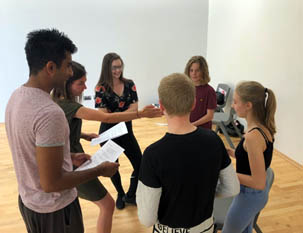 Bally put the students through their paces as the cameras looked on, and our young people gave an exceptional performance.
The students were then given the honour of treading the boards (on stage) at the RSC itself, working with the director, cast and crew through a technical rehearsal.
Courtney called the experience 'a huge confidence booster. It took me out of my comfort zone', whilst Nathan added 'it was really interesting to be on stage at the RSC and see how it all works behind the scenes'.
The segment is provisionally scheduled to air during the BBC Midlands Today programme on Friday evening.
Mr Wood, Assistant Headteacher