A Double Win at the 2017 Book Bout Competition
On Monday 23rd January, our Librarians - Ms Lindsey and Ms Ranchhod took some Year 7s to participate in the Coventry Secondary Schools 2017 Book Bout Competition, at Caludon Castle School.
The Book Bout Competition is designed to give the children and young people the chance to unleash their creative talents by "presenting a given book – from the shortlisted books in the 2017 Coventry Inspiration Book Awards - in such a persuasive way that the other pupils present really want to read it"
There were 2 prizes available to win:
One for the Best Book – voted by the audience and
One for the Best Presentation – as chosen by the Judges
We were given the book Boy X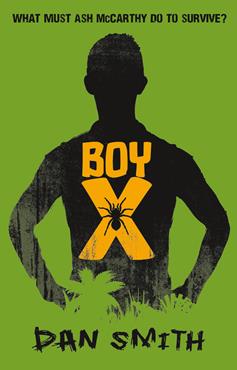 by Dan Smith to present.
Boy X is about 12 year old Ash McCarthy, who along with his friend Isabel, discovers he has been genetically enhanced on a tropical island and must stop a scientist escaping with a killer virus.
For the presentation, our group all had a role to play in the production – some did the acting, whilst the others were the Director, Costume/Props, Narrators and Technical Assistants.
When we got up to do the performance it was nerve racking - I was the first person who had to say something and I was shaking. But when I said the words it felt like a relief and it was over before I knew it.
Our group decided to showcase Boy X, by opening with acting scene in a jungle with Boy X and Isabel, who got captured. Then, we showed a made up Minecraft Trailer – created by Aymaan Sajid – and finished off with a scene between the Boy X, Isabel and the villianious scientists fighting over the virus!
After all the Schools had done their presentations, we had to do the voting.
Pupils had to vote for the Best Book based on the presentations and the panel of judges voted for the Best Presentation.
Our school came 1st in both categories and we were glad to hear it was a DOUBLE WIN for President Kennedy!
We were given a range of books, posters and bookmarks and we came back to school with a huge smile on our face and proud to say we had won.
The Book Bout competition was extremely enjoyable. There were a lot of great performances we had the pleasure of seeing and of course, happy to have done so well!
Year 7 – Tiya Dhillion, Simran Dulai, Ismail Rafiq, Praveen Dhillon, Karina Kaur, Nida Mansoor, Tasneem Rahal, Matthew Taylor, Yusuf Kusum, Alex Culver and Aymaan Sajid - receiving certificates at the 2017 Book Bout Competition.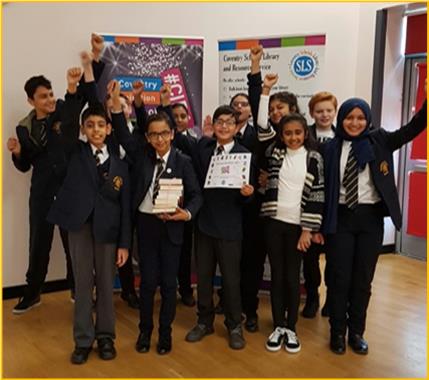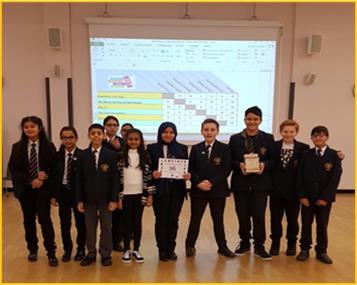 By: Tiya Dhillon and Alex Culver, Year 7