World Class Schools Quality Mark (WCSQM) WCSQM Assessment Centre 2018 – a unique process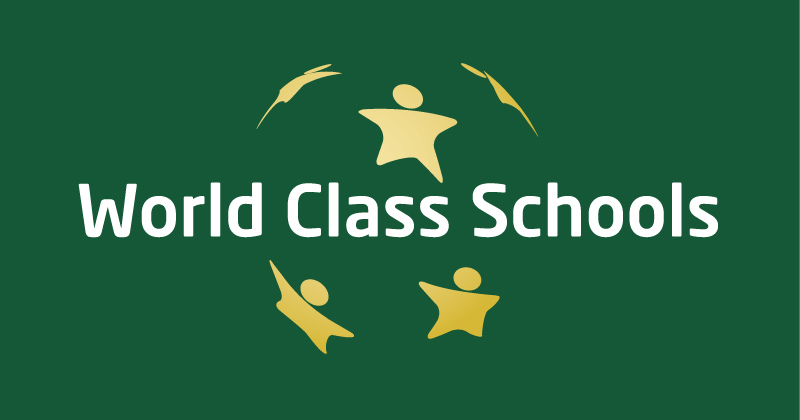 As part of our on-going role as an accredited World Class School, President Kennedy School is delighted that four of our Year 12 students are now operating as official assessors for the World Class Schools Quality Mark accreditation process.
WCSQM has been accrediting OFSTED outstanding secondary schools in the UK since 2014 using a framework of skills and competencies that young people need to flourish in an emerging global economy. This year, sixteen secondaries, seven primaries and two special schools made it through to the assessment centre stage where students were given the challenge of working together to develop the Riverbank Academy school grounds in Coventry to promote accessibility, independence and a love of learning for their students. They achieved this by redesigning and renovating the 16+Hub area, sensory garden and main reception entrance.
A powerful aspect of the process is that applicant students are assessed by students and staff, drawn from schools who are already World Class. The assessors, which included Zohaib Malik, Isha Patel, Caidie Samra and Reyna Sandhar from President Kennedy School, shadow each applicant student during the process, and assess students' performance, teamwork and materials produced against the WCSQM framework. This gives the student assessors from accredited World Class schools a chance to refine their already outstanding skills. This included analysis, project management, communication and diplomacy, and gives students being assessed access to World Class role models.
Year 12 commented that they have found the process a very stimulating, sometimes challenging but ultimately rewarding experience. They were required to observe and monitor the applicants through the entire process from the pre-event planning, research, and design work through to the practical work on the day where they completed their challenge, creating display boards, furniture, decoration and learning and relaxation spaces for students, taking into account practical, environmental and learning considerations. Evaluating the work of teams who were sometimes struggling with organisation and time-management was a test of their own leadership skills.
As assessors, Isha, Zohaib, Caidie and Reyna will receive a WCSQM assessor qualification; all student assessors are entitled to bespoke references from WCSQM for life, and the best student assessors are short listed for the WCSQM Individual Achievement Award, the winner of which is announced at the WCSQM Awards Ceremony.
"The student assessors blew me away. They are just operating at the highest level of competence." Alex Green, Schools Programme Manager at Ashden LESS CO2.
"Our assessor programme means World Class students can develop their skills to a professional standard. Staff find out about the best things other World Class schools do. It's an invaluable process. " Bronwen Tumani, Assessment Manager, WCSQM.